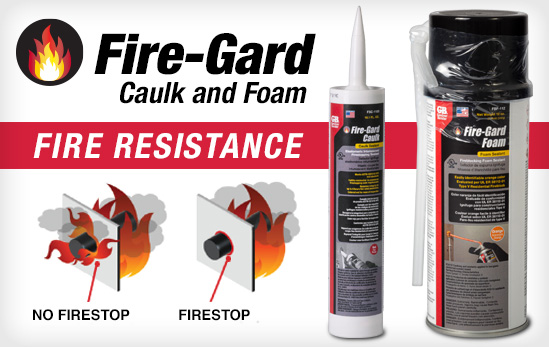 Gardner Bender launches Fire-Gard it's new line of firestopping sealants!
Introducing Fire-Gard products by Gardner Bender.
A fire that starts inside a building is bad enough but having the smoke and fire rapidly spread engulfing much if not all of the structure "through openings" around HVAC duct work, plumbing and electrical wiring openings is a complete disaster. New construction laws require the use of firestopping agents to be used in commercial, multi and single-family residences with attached garages.
Fire-Gard caulk and foam is a fire-rated material designed and tested to compartmentalize and contain the spread of fire as well as meet new construction codes. Sealing around openings from HVAC duct work, plumbing and electrical wiring openings using Fire-Gard, is a passive type of system application for fire protection to limit the spread of fire, smoke, heat and toxins.
There are four primary system application areas where firestopping with Fire-Gard is used:
Joints between fire rated components
HVAC duct work, plumbing and electrical service openings in floors
HVAC duct work, plumbing and electrical service openings in walls
Blank openings and/or voids
Fire-Gard and other firestopping materials are applied in specific ways to work within a system application. The responsibility of firestopping falls on the shoulders of many professionals, all at different points within the construction. All systems are tested and approved to determine the correct type of firestop material and the quantity. Those that are responsible for firestopping need certification and education to ensure proper application and approved methodology.
The origins of firestopping:
As Navy ships grew larger, ventilation ducts and cable runways that interconnected to adjacent spaces grew too. The need for compartmentalization of these spaces was solved in part by the development and use of Fire-Gard to seal the service entry points. The products where soon there-after adopted for use in modern construction for an added layer of safety and fire containment. Since it's early introduction the benefit and need for it has grown. Building codes have also changed in many areas from recommending firestopping sealants to be used to requiring them. With that requirement established a list of tested and approved products and use applications have also appeared.
The most commonly and widely accepted test standard is ASTM-E119, which is conducted to determine the ability of a fire resistive assembly to perform as a barrier. The other important standard to know is ASTM-E814 which tests the through penetration firestopping ability of a product. Fire-Gard is approved, tested and certified for both ASTM-E119 and ASTM-E814 standards.
Gardner Bender's current Fire-Gard products are:
FSC-1103 — Elastromeric intumescent firestop caulk sealant. This sealant covers a wide range of electrical, plumbing, HVAC and head-of-wall applications for "through penetrations" found in up to 4 hour rated wood, gypsum and concrete floor or wall assemblies in order to resume the hourly rated integrity of those systems.
Made in the USA
ASTM-E814 and cULus 1479 certified
1/8" bead application covers 96.7', while the 1/4" bead application covers 24.2'
Red for easy identification
FBF-112 — Polyurethane fire blocking foam sealant. This expanding foam is used for filling, insulating and sealing space around wires, vents, pipes, ducts and other mechanical items that penetrate openings in single family residential construction. It is easy to install. One can yields approximately 15 tubes of caulk, reducing material costs. Fire-Gard foam is a UL recognized alternative fire blocking material, but is NOT intended for use in hourly rated assemblies.
Made in the USA
UL recognized material per IRC section R302.11
Identifiable orange color
Foam application straw provided
For more information or to place an order call 1-800-624-4320.