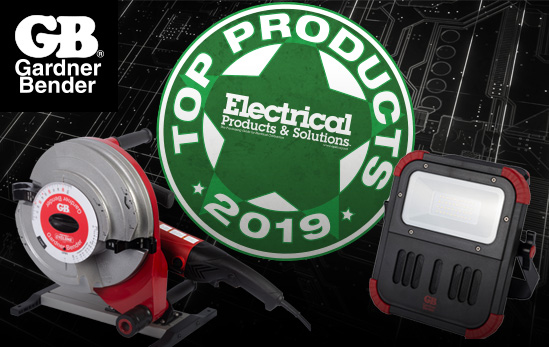 Gardner Bender Awarded 2019 Top Products Award from EP&S Magazine
New Berlin, Wisconsin – January 1, 2020
Electrical Products and Solutions magazine awarded Gardner Bender Top Product 2019 for the B1000 - Portable Cyclone conduit bender and the GWL-20BT - LED work light with built in blue tooth speakers.
Portable Cyclone® Powered Conduit Bender
The innovative and new portable Cyclone® powered conduit bender by Gardner Bender for bending ½" — 1" EMT, Rigid, and EMT aluminum conduit and ½" — ¾" PVC-Coated Rigid conduit, all on a single shoe! The bender uses a standard pipe threader as a power source, making it versatile and quick to set up. It is compatible with most pipe threaders on the market. The Portable Cyclone® is designed with portability in mind. Weighing in at just 35lbs (about 53 lbs* with a pipe threader attached), the Cyclone® is easy to carry around on a jobsite or up and down stairs. Reduce the risk of injury by removing the need to bend larger sizes of conduit using a hand bender or lugging around heavy equipment and conduit. Make work more efficient by saving time on the jobsite. Performing precise bends with repeatability has never been this quick and easy!
LED Work Lights
Gardner Bender's newest line of LED work lights brings the best in innovation, technology durability and versatility. GB brings together two of the most popular technologies into 1 easy to use portable device. Introducing the new GWL-20BT, it features a 20 -watt LED work light producing over 2,000 lumens and includes two built-in 3-watt Bluetooth speakers. The 2 built in speakers pack loud enough sound to use the light while entertaining in the backyard during the summer or keeping the jobsite moving along. The LED light a 6000K color temperature for a natural daylight look. The work light also includes a quick lock and release, a rotating kickstand base that doubles as a mounting bracket and a USB accessory charging port. No matter the application, one of Gardner Bender's LED work lights will satisfy your needs.

Danny J. Salchert, "Top Products 2019," Electrical Products & Solutions, December 2019 Issue.
Read the full "Top Products 2019" story