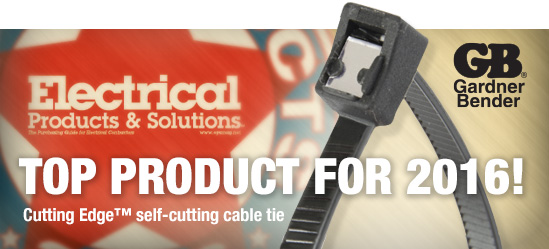 Gardner Bender Wins a Top Product Award 2016 from EC&M
Menomonee Falls, WI – January 31, 2017
Electrical Products and Solutions magazine announced in their most recent publication that Gardner Bender's® Cutting Edge™ self-cutting cable tie has won a Top Product of 2016 award for being one of the most unique and reliable cable ties in the electrical industry.
These Cutting Edge™ ties are extremely easy to use and leave a clean edge every time. Simply lock the cable tie in place, twist off the tail, and the job is complete! A small cutting blade inserted to the head of the tie cuts the tail to ensure no rough edge is ever left behind.
Compared to other "twist" ties in the industry, Cutting Edge™ cable ties do not require reduction in the durability and strength of the cable tie material. Gardner Bender's® self-cutting ties won this award because as a company Gardner Bender® is not willing to compromise on the quality the customer deserves.
Cutting Edge™ self-cutting cable tie are available in either black and natural 20 or 50 packs. They are also offered in 8", 11" and 14" lengths. You can find these amazing cable ties at your local electrical retailer.