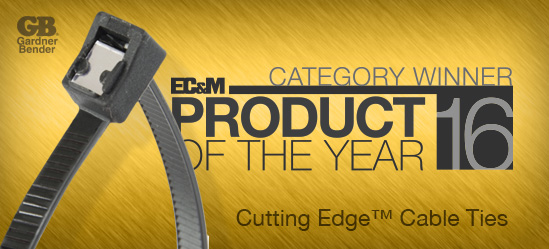 Cutting Edge™ Cable Ties Win Electrical Construction and Maintenance Magazine Award
It is an honor to announce that Gardner Bender® has recently received a Product of the Year Award by Electrical Construction and Maintenance Magazine in the Fasteners, Hangers and Accessories category. The winning Cutting Edge™ cable tie features an integrated stainless steel cutting blade that is safe, strong and creates a clean cut edge.
"From the end users and the various markets we serve, we heard the need for a better way to remove the excess tail after the tie has been fastened. We took this information and launched a family of self-cutting cable ties that provide a clean cut result that doesn't leave a sharp edge," stated Dave Wiesemann, VP-Product Development and Marketing.
Innovative Cutting Edge™ cable ties from Gardner Bender® save time and frustration. Simply lock and twist to finish the job, with no need for additional tools! This leaves a clean cut, which improves appearance and eliminates the sharp edge left behind by diagonal cutters. The excess tail can then be easily discarded without extra time for collecting the loose tails left behind by cutting. Its 50 pound tensile strength makes it acceptable for most applications.
"We are pleased to be acknowledged by this industry award," concluded Wiesemann.
Learn More about about Cutting Edge™ cable ties