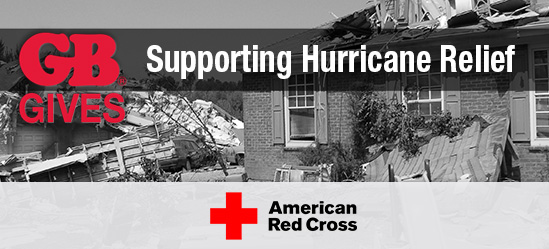 Gardner Bender Donates to Hurricane Relief
September 14, 2017– Menomonee Falls, WI
The Gardner Bender team announced today a portion of September proceeds will be donated to Red Cross in support of hurricane relief efforts. Hurricane Harvey and Irma have caused widespread damage across Texas, Florida and beyond. The American Red Cross is a primary organization providing support for hurricane recovery.
"We stand with the millions of Americans dealing with the devastation and aftermath of two powerful storms. For over 50 years, Gardner Bender has had solid distributor relationships in the gulf region so it is important we provide assistance to the recovery efforts for all hurricane affected areas." President Mike Masino stated during a companywide meeting.
Senior Operations Manager Tad Balsiger said "We are committed to service, and collaborating with Red Cross is the perfect opportunity for us to make the largest impact. Our thoughts are with anyone that has experienced this tragedy and we will continue to serve in any way we can."
Gardner Bender serves several thousand Electrical Distributors in Florida, Georgia and Texas. Gardner Bender's primary Electrical Distribution Partners contributing to this hurricane relief effort include CED, CES, and Sonepar.