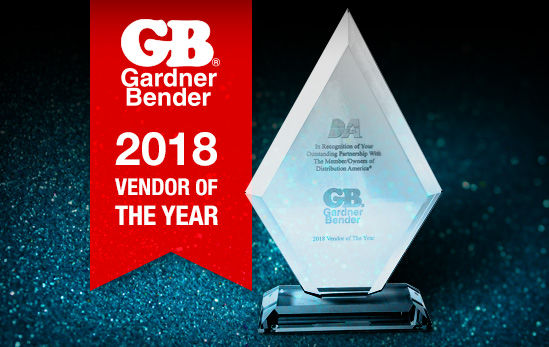 Gardner Bender Named 2018 Electrical Vendor of the Year at Distribution America
MENOMONEE FALLS, Wisconsin – November 15, 2018
Gardner Bender was named Electrical Vendor of the Year for 2018 by Distribution America at their Annual Executive Planning Conference in November. This award is based on a number of criteria from increasing DA member's sales, introducing innovative new products, best in class merchandising, excellent operational performance and dedication in supporting the Distribution America member organization.  
Jason Rasmussen, Director of Merchandising at United Hardware stated, "Gardner Bender's timely shipments and accuracy in fulfillment make them stand out among our vendor partners. We value our partnership and their commitment to our channel."
This is the second Vendor of the Year award at Distribution America in 5 years. The previous award was in 2014 followed by Product of Year honors in 2015.