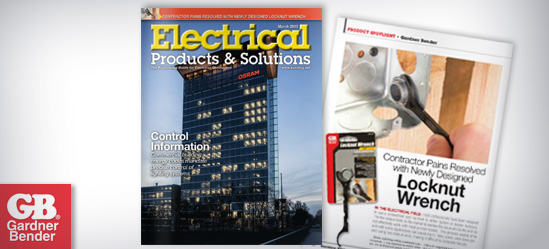 Contractor Pains Resolved with Newly Designed Locknut Wrench
IN THE ELECTRICAL FIELD, most professionals have been resigned to use a screwdriver and hammer to either tighten or loosen locknuts. The few unique tools on the market to resolve this issue are clunky and do not effectively work with most junction boxes. This process wastes time and with some applications can cause injury. Also, some union laws prevent using two tools at once, making it difficult to complete the job.
While searching online contractor conversations, it was apparent no matter what site, the professional panels could not provide a #1 suggested tool to complete locknut operation with ease. Gardner Bender's head Engineer Matt was out in the field discussing contractor job frustrations and he felt there has to be a better way to reduce job time while working with locknuts. That began the design for a perfect locknut operation tool.
Read the full article in Electrical Products & Solutions Magazine.