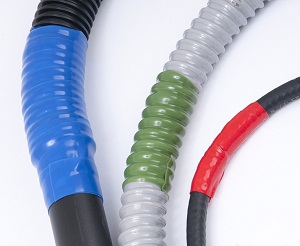 New Repair Tape
Repair & Protect:
• On the Job
• Around the house
• In the Garage
• In the Workshop
• On a Camping Trip
• At the Gym
• In the Yard
• On the Boat
• In the Car
The Essential Silicone Protect & Repair Tape
Repair Tape, another innovation from Gardner Bender, can save the day during emergency repairs. Easier than heat-shrink, cleaner than plumbers' putty, and more flexible than a vice grip, Repair Tape is a household necessity. Add it to the tool box, the workshop shelf, and the "junk-drawer" for emergency repairs and maintenance projects.
Benefits:
• Save Time: Use Repair Tape to hold irregular shapes instead of clamps or vice-grips.
The non-adhesive formula leaves no sticky residue.
• Reduce Stress: A quick fix during emergency repairs, Repair Tape is waterproof,
weatherproof, and air tight.
• Save Money: Insulate and protect around the house and
minimize the need for emergency repairs.
• Reduce Hassle: Waterproof and insulate wire connections with no extra equipment
or heat required.
Features:
• Non-Stick – Repair Tape fuses only to itself when applied under tension.
No sticky residue remains on wrapped surfaces.
• Flexible - Operates and remains flexible from -60°F (-51°C) to 500°F (260°C).
• Strong – Stretches up to 300% its original length with 60 ppi tear strength.
• Durable – A permanent air & water tight seal, Repair Tape has excellent UV Resistance.
• Secure – Repair Tape begins to bond immediately on contact with itself.
Repositioning is not recommended after 2 minutes of application.
Repair Tape NPA (English)
Repair Tape NPA (French)
Repair Tape NPA (Spanish)