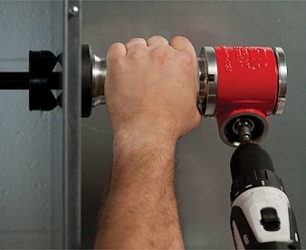 Slug-Out Knockout Driver
Versatile. Durable. Powerful.
Enhance the tool you own with Gardner Bender®'s new Slug-Out™ Knockout Driver. Turn your ordinary everyday cordless drill into a powerful knockout driver. You win--with the versatile dual drive, durable all metal construction and powerful gear design! Save time, hassle and money, with Gardner Bender®.
Features and Benefits:
• Versatility: Works with any standard knockout set and draw stud
• Industry Leading Durability: Delivers superior life in the toughest applications
• Ease of Use: Dual drive allows you to drive from either side
• Serviceability: Field replaceable draw stud