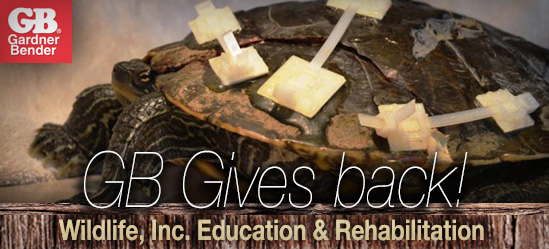 GB Gives Back!
Gardner Bender donates cable ties and mounting bases to help repair shells on Gopher Tortoises and other Tortoises through Wildlife Inc in Bradenton Beach, Florida. This Method will be demonstrated to 150 veterinarians and biologists in September 2015 to help rehabilitate turtles in a safe & effective way.
A turtles shell consists of over 50 bones and provides critical protection from predators above and below. The Gopher Tortoise is protected under the Endangered Species Act in different regions around the US. They can live up to 80 years and are an essential part of the ecosystem, spreading plant seeds for germination.
The GB team is proud to support Wildlife Inc with their mission to rehabilitate wildlife. All employees are unpaid volunteers and any donations go directly to the animals in need.
Interested in learning more about Wildlife Inc or donating? Check out their amazing work here: www.wildlifeinc.org